About CADTutor
Colophon
The CADTutor website is designed, built and maintained by David Watson from his home, a small cottage in rural Hampshire (UK), which he shares with his wife, two children, two chickens (fox) and a cat. The site is primarily about a computer drafting application, known as AutoCAD. The aim of the site is to help beginners learn how to use AutoCAD and also to help experienced users become even more efficient.
In addition to running the CADTutor website, David teaches Digital Design at the University of Greenwich. He is also a qualified Landscape Architect and specialises in Visual Impact Assessment. When he's not doing any of these things, he's most likely to be found out cycling or taking photographs of the beautiful Hampshire countryside. Sometimes he just likes listening to old Echo and the Bunnymen songs on his iPod (his wife thinks that's a bit sad).
Author's Notes
February 2007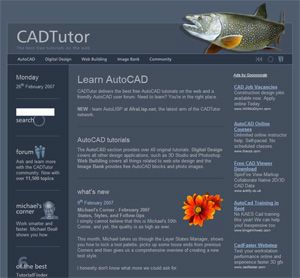 Over the past 5 years, CADTutor has grown amazingly and what started as a small tutorial site with a few visitors per day is now a well-known AutoCAD resource with comfortably over 100,000 unique visitors every month. When CADTutor v3.0 was published five and a half years ago, I wouldn't have believed things could change so positively. CADTutor v4.0 brings the prospect of a whole range of new opportunities for the next 5 years. It's taken 18 months of work (off-and-on) but the site has now been transformed from an "old-school", static html site into a modern, standards compliant, dynamic site using PHP and MySQL.
As you can see from the image of the version 3 website on the right, the site has retained its established identity and its mascot, the enigmatic trout (still without a name!) but I hope the new design improves both usability and accessibility in addition to just making the place a better experience for visitors. If you have any comments about the site, I'd love to hear from you, especially if you have suggestions or feedback (good or bad).
Thanks to all of you who have made the site such a success.
David Watson
August 2001
CADTutor started life in 1995 as a couple of A4 printed handouts designed to help students get to grips with AutoCAD R12 for DOS.
I had recently started teaching computer aided design at the University of Greenwich in the UK and needed to develop some simple teaching materials. I continue to teach at Greenwich but have also been teaching at the University of Kingston, in the UK and have been visiting tutor at the Technische Universitat Berlin at Berlin in Germany, Larenstein University of Professional Education at Velp in the Netherlands and Erasmus Hogeschool Brussels at Vilvoorde in Belgium.
For the last few years, I have also run a number of professional training courses for AutoCAD and Photoshop.
The nature and range of my teaching has meant that I need access to teaching materials wherever I am and the Internet, when it arrived, proved to be the perfect medium for delivery.
As you can see, what started out life as a few brief notes has turned into a mammoth amount of work, all done in my own time. It has, in fact, become a labour of love.
So here it is, never complete, never perfect but substantial and comprehensive. It will continue to grow as my teaching inevitably leads into new areas. Enjoy it, it really is free.
David Watson
Site Statistics
Recently, I've been asked a number of times how much traffic the CADTutor site gets or how many people use it. So, for your amusement, I have now published the site's monthly statistics. You are not alone!
Awards
18th September 2007, CADTutor is awarded runner-up in the Accessibility category of the 2007 Hantsweb awards.
7th October 2002, CADTutor gets mention on CADALYST Newsline.
CADTutor was awarded a 2002-2003 Golden Web Award in April 2002.
CADTutor was awarded the TenLinks "Site of the Week" for the week of 2nd April 2001. The site is also listed in the top ten AutoCAD tutorial sites.
include ($_SERVER['DOCUMENT_ROOT'].'/includes/adsense/home_banner.php'); ?>
User Comments
I have received many unsolicited messages of thanks for CADTutor over the years. It's one of the things that makes all the hard work worth while. I hope you enjoy reading them as much as I did.
"I really appreciate the free lessons. I found the lesson on how to make the Autocad to Photoshop workflow a productive enterprise most helpful! I am the owner of a small landscape architectural and site planning firm and these lessons will be implemented in our plan production process.
Keep up the good work!"
"As a senior citizen going to the local university, this site is marvelous. It was recommended by our professor and I am sure glad I got the address. Unfortunately I can only use AutoCAD 2007 in class so this site will be a big help in filling in the blanks. I will surely be a part of the donation program for the site. Thanks."
"I just discovered your CAD tutorial on how to manage the hybridization shared between AutoCAD and Photoshop. It is a great resource! I plan to direct my clients who will be using our products to your site and tutorial...
So thank you very much for your hard work at clearly explaining what can be a rather difficult thing for many architects to understand well."
"I am an intern architect in Montreal, Canada, who just found your site searching for standalone "photoshopped" trees and wanted to comment on the beautiful, thorough clear website!
A site I will return to and recommend highly!
Keep up the incredible work!"
"Thank you for the wonderful information on your website. I have been studying AutoCAD 2000 for almost a year and I feel that I have gained more information in the 2 hours that I spent on your site than in the previous 2 months of classroom study. You definitely have the knack for presenting information in a clear and concise manner..."
"...So why do I keep returning to your site, as opposed to the other trillion or so out there? It has a magnetic appeal in it's style and simplicity, I'm certainly no expert, yet not new to the web. I've been surfing for years. Of all the sites I have ever visited, yours has to rate amongst the very best..."
"I have been browsing the web in search of AutoCAD tutorials, and finally I found your pages, which are wonderful. I doubt very much that someone could beat these tutorials, they are cool..."
"...3 days ago I purchased 3D Studio MAX and with the help of your tutorial it was a breeze to learn the AutoCAD walk through. I have been using a lot of what is on offer on the net for learning this software, but no one has made it easier and been more interested in actually showing someone how to learn than you have..."
require ($_SERVER['DOCUMENT_ROOT'].'/includes/donate.php'); ?>