From: AutoCAD Productivity Articles #136
Originally published: October 2014
'Sign Language'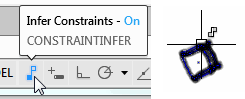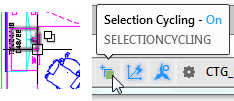 For the last few versions we have seen icons next to the cursor for Geometric Constraints (left) and Selection Cycling (right), as well as the little icon for a Locked layer and the Match Properties paintbrush.
Those icons are displayed when the related feature is enabled.
Cursor Badges
But AutoCAD 2015 now has included a 'cursor badge' for several editing commands, such as Rotate and Erase (see figures below), along with Measure and even the Window and Crossing selection direction badges.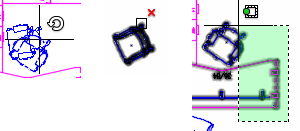 Some of you, however, may prefer not to see the new badges beside the cursor. If so, set the variable CURSORBADGE to <1>, which will disable all badges.
See all the articles published in October 2014
See this article in the October 2014 Corner
Donate to CADTutor
If you found this article useful, you might like to consider making a donation. All content on this site is provided free of charge and we hope to keep it that way. However, running a site like CADTutor does cost money and you can help to improve the service and to guarantee its future by donating a small amount. We guess that you probably wouldn't miss $5.00 but it would make all the difference to us.
Note from Michael: I want to thank all of my customers for continuing to retain my training services (some for over three decades!) and let you know your donations do not go to me personally, but to the ongoing maintenance of the CADTutor ship as a whole and to support the yeoman efforts of my friend and CADTutor captain, David Watson, to whom I am grateful for this monthly opportunity to share a few AutoCAD insights.