Michael's Corner #135
August/September 2014
Quick and Easy Customizing
CAD Trainer Guy coming to Manila!
If you would be interested in some onsite, hands-on, AutoCAD training, please contact me directly for more information about my upcoming visit. I will be in the Philippines on October 1 & 2 [W/Th]. You can also check out my Training Menu at my website.
One of my new-to-AutoCAD students nailed it this week, "I now realize just how much you can do with AutoCAD!" What's even more exciting is the relatively easy customization you can do if you know where to look… so here are a few places to turn your attention!
…Add a System variable to a Field on your Layout tab
…Assign an object snap to a Function key
…Display a toolbar in the Ribbon workspace of AutoCAD 2015
…Use the Copy option when you Rotate objects
I hope you have all had a grand summer. The highlight of ours was our son Joshua's graduation [BFA, Digital Filmmaking & Video Production from the Art Institute in Cincinnati], so if anyone works where you could use a Production Assistant, please let me/him know!
Keep up the good work!
If you would like to contact me directly, you can do that also.
Blessings to one and all,
Michael
The CTAB System Variable in a Field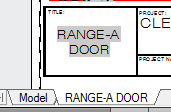 Fields were introduced about a decade ago, and their fundamental operation is still the same. I wrote about them on several occasions—the earliest of which was in Michael's Corner July 2005—and I enjoying finding interesting applications for them.
By default, the text of a Field has a gray background, so when I saw some field text in a customer's drawing that wasn't the drawing name or the date, I looked a bit closer. As it turns out, the Field contained the name of the Current tab.
How to Add the Layout Tab Name to a Title Block
Set the desired Layer and Text Style to be current first, then click on your Layout tab of choice.

On the Insert tabData panel, click Field.

On the left, under Field Names, scroll to the bottom and select SystemVariable.

In the middle section, select ctab.

Click the desired format on the right, then click OK and the name of the current layout tab is attached to your cursor.

If necessary, click Height to change the height of the field text, then place the text.

Double-click the name of the tab and change it, then Regen the drawing to update the field.
Keep in mind that a Field can be added as an attribute, so if you are using attributes in a title block or a border for a layout tab, this would be a great feature to include!

Note: Even though the gray color won't plot, to turn off the gray background of a field, go into Options

User Preferences tab, then clear the check box in the bottom left to Display Background of Fields.
Power Tool
Add an Object Snap to a Function Key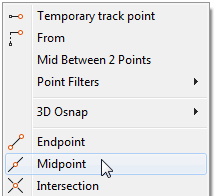 Rather than turn on half a dozen Osnaps, I typically run with just Endpoint and Node, and then I use Shift + Right-click to pull up the Osnap shortcut menu shown here.
However, most of my 'one off' snaps tend to be Midpoint, so I configured F5—the Iso toggle, by default—to kick in Midpoint for a single click.
It looks like it's been five years now since I did a Power Tool on assigning commands to a function key [Quick Properties on F4 back in September 2005], so I thought it might be time to circle back on this.
How to Add Midpoint Snap to F5
Open the CUI.

Under Customizations in All Files, expand Partial Customization Files, then expand CUSTOM. Now expand the Keyboard Shortcuts node.

Under Command List, drag Snap, Midpoint up into the Customizations pane and release it next to Shortcut Keys to add it to the listing.

Note: If the recently added command does not initially appear in the Shortcuts pane (in the upper right quadrant of the CUI), click OK to close the CUI, then re-open it.

In the Shortcuts pane next to the Snap, Midpoint, click in the Keys column, then hit F5 and press <Enter>. You should now see a green checkmark in the column preceding the name.

Click OK to close out of the CUI.
Now, when you need a quick Midpoint snap—rather than leaving it on all the time—you can hit F5!
The Odd Spot
Add a Toolbar to AutoCAD 2015
Just so you know, you can still have toolbars share the same stage as the Ribbon. Over the last few versions of AutoCAD, on the View tab, you had the Toolbars pane at the far end… but that panel is not in AutoCAD 2015.

How to Display a Toolbar in A2015
Click the Customize Quick Access Toolbar dropdown arrow, then click Show Menu Bar at the bottom.

Click Tools, then ToolbarsAutoCADpick-one.

To make it stay, click Workspace SwitchingSave Current As.

Enter a name for this workspace, then click OK.
From this point forward, when you open AutoCAD, your toolbar—as well as the Menu Bar—will be displayed.
The Basics
Rotate with the Copy Option
Grips don't get a lot of respect, but they are really quite powerful [See 'The Lost Art of Grips' in Michael's Corner March 2005], and the introduction of multifunction grips a few versions ago [Covered in Michael's Corner in July 2011 & April 2012], really kicked 'em up a notch.
However, what I want to mention here, is the Copy option of the Rotate command (…which is a similar feature when using grips, if you were wondering about the relevance).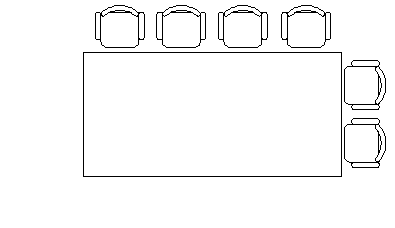 In the following exercise, the chair arrangement must be completed on all four sides.
How to Copy with Rotate
Launch the Rotate command, select the objects to rotate, then press [Enter].

To pick the middle of the conference table, Shift + Right-click and click Mid Between 2 Points, then click two diagonally opposed corners to specify the rotation basepoint between them.

Click the Copy option (or enter C if you have a version prior to AutoCAD 2013).

Turn on Ortho if necessary, then click to rotate—and copy—the selected objects!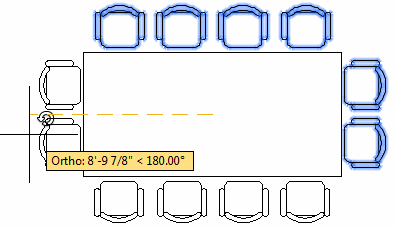 Left Field
Room & Board: Anne Hathaway's Cottage in Stratford-upon-Avon is more than 400 years old, and was the childhood and family home of William Shakespeare's wife.

I was reading in a devotional from Our Daily Bread, that when you tour the home, your tour guide may draw your attention to a table made with wide boards. One side was used for eating meals and the other for chopping food. In English life, different expressions grew from this usage as the word board became associated with food, housing, honesty, and authority. An inn would offer "room and board"—that is, sleeping and eating accommodations. In taverns where customers played cards, they were told to keep their hands "above board" to make sure they weren't cheating. And in the home, the father was given a special chair at the head of the table where he was called "chairman of the board". Insight courtesy of ODB.ORG
Donate to CADTutor
If you found this article useful, you might like to consider making a donation. All content on this site is provided free of charge and we hope to keep it that way. However, running a site like CADTutor does cost money and you can help to improve the service and to guarantee its future by donating a small amount. We guess that you probably wouldn't miss $5.00 but it would make all the difference to us.
Note from Michael: I want to thank all of my customers for continuing to retain my training services (some for over three decades!) and let you know your donations do not go to me personally, but to the ongoing maintenance of the CADTutor ship as a whole and to support the yeoman efforts of my friend and CADTutor captain, David Watson, to whom I am grateful for this monthly opportunity to share a few AutoCAD insights.