Michael's Corner #96
December 2010
It Was a Very Good Year
Sitting here in Las Vegas where Autodesk University 2010 starts in less than 24 hours and, looking back, it was a very good year. If for no other reason than the publication of The AutoCAD Workbench, a book that was nearly 8 years in the making (thanks in no small part to the efforts of David Watson at CADTutor.net).
The idea or solution for three of this month's four articles came from customers over the last few months (no surprise, I'm sure) and I am delighted to have this platform to share them with you. Specifically…
…How to add commands to the Edit shortcut menu
…How to avoid getting fat lines in a .PDF (that look like they've been drawn with a Sharpie™)
…What variable controls planar vs. 3D for non-planar distance inquiries
…and a Command line insight you may find useful
I'm really excited about presenting my AutoCAD Toolbelt lab twice tomorrow (85 in each session!), and the workbook I will be using will be posted on my website for the next couple months.
Blessings to one and all for a glorious and blessed Christmas and a Happy New Year!
If you would like to contact me directly, you can do that also.
Blessings to one and all,
Michael
Add Mirror to Your Right-Click Shortcut Menu

My approach to command selection is, admittedly, based on the DOS version of AutoCAD, i.e., select the command, then follow the prompts. With the advent of Windows, of course, came the extensive right-click range of options.
As an instructor, I prefer to teach the way that will always work with every command - select the command, then follow the prompts. I have noticed over the last few years, however, that my younger students have this habit of selecting the objects first, then using the right-click menu… an approach that cannot be used for every command.
That said, here's a solution I found for one of the designers that came to my IIDA seminar in Louisville last month who was interested in adding Mirror to her shortcut menu.
How to Add a Command to the Edit Shortcut Menu
Enter CUI to open the Customize User Interface.

Expand the Shortcut Menus node to display the array of shortcut menu driven features.

Expand the Edit Menu node where you will see editing features for selected items.

From the Command List, drag Mirror up and release it in the list.

Click OK to save your changes and close the CUI.

Select any object in your drawing, then right-click and you should see your addition in the shortcut menu!
Power Tool
Solution to Fat PDF Lines
I'm not which customer told me this last month, but this is a huge insight!
We have probably all noticed that 9 times out of 10, the lines in a PDF look like they were drawn with a Sharpie™.
Solution: In the Layer Properties Manager, select all the layers, then set the Lineweight to 0.00 before you plot the PDF.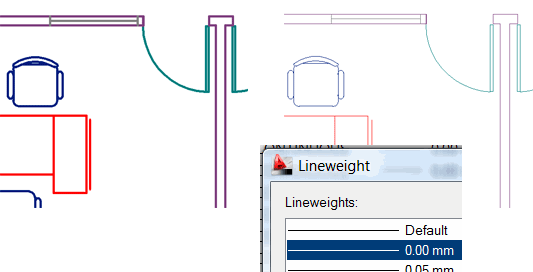 The images here don't do the result justice, but trust me on this one, it works!
The Odd Spot
Finding the 2D Distance Between 3D Points
I've 'met' a lot of really great people as I have communicated with some of those who have purchased my book. Ben Senior from Germany has forwarded me some valuable input for the next edition (coming in June 2011), and I wanted to forward the solution he found for returning the planar, 2D distance between points that are not in the same plane.
Solution: OSNAPZ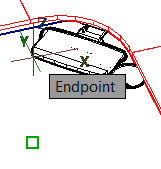 By default the value for the OSNAPZ variable is set to <0> and the result of a distance inquiry - using either the Distance command or the newer Measuregeom command with the Distance option - is the direct distance in 3D space (shown in the figure on the left) between a keyboard tray and the bottom of a panel.
Set OSNAPZ to <1> and the specified points are, essentially, projected to the current XY plane. The image below illustrates the projection of the point on the keyboard tray down onto the 'floor'.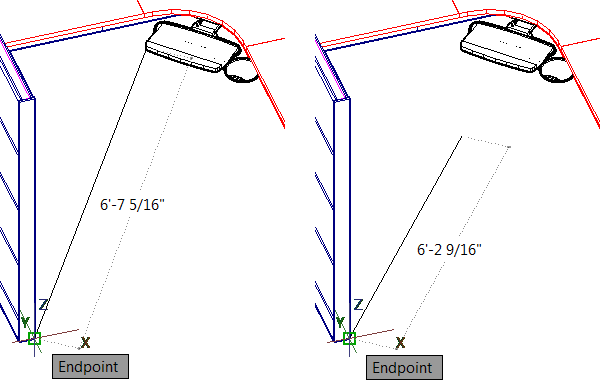 Thanks for that heads-up, Ben!
The Basics
Another Command Line Insight
This is so very simple, but can be so very helpful.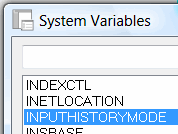 Whether you type your commands and variables, create on-the-fly Lisp lines, or select your commands from any other available method, it can be very helpful to be able to use the Up arrow to display your previous commands. Try it out; enter some text, draw a rectangle, then move or copy some objects. Now hit the Up arrow on your keyboard to see the commands you just went through.
If you are not seeing those, you may need to adjust your INPUTHISTORYMODE. That variable should be set to <15>. To see the configuration options for that variable, you will find those in the System Variable Editor [Express Tools tab

Tools panel].
Left Field
Christmas trivia: The first Christmas tree (as well as Nativity scene) was brought to American by the Moravians in Bethlehem, PA in the mid 1700's. Also, the first record in the New World of a candle service is in the diary of Bethlehem, PA, where it was an important event of Christmas, 1756.
Donate to CADTutor
If you found this article useful, you might like to consider making a donation. All content on this site is provided free of charge and we hope to keep it that way. However, running a site like CADTutor does cost money and you can help to improve the service and to guarantee its future by donating a small amount. We guess that you probably wouldn't miss $5.00 but it would make all the difference to us.
Note from Michael: I want to thank all of my customers for continuing to retain my training services (some for over three decades!) and let you know your donations do not go to me personally, but to the ongoing maintenance of the CADTutor ship as a whole and to support the yeoman efforts of my friend and CADTutor captain, David Watson, to whom I am grateful for this monthly opportunity to share a few AutoCAD insights.