Michael's Corner #130
October/November 2013
The Year Was 1953…
Birthday cards and greetings are always welcome as I turned 60!! this month! In addition to family, I invited lots of customers to our favorite Mexican restaurant, Fiesta Mexicana. Unfortunately, the one in Shelbyville was not ready in time for my birthday (there was a fire in February so they're rebuilding in a new location), but the food—and margaritas—are just as wonderful at their Louisville location.
And although I'd love to go on about me, here are a few things I thought I'd set you to thinking about while you ponder… whether or not it's worth the trip to Louisville.
…A 3D application for split views in Model space
…How to resolve the crosshair color in Paper space
…The solution to displaying the Layer states in List form, rather than a 'checkerboard'
…An easy way to get text from your Microsoft Word® document into Multiline text
This month I'm speaking at the Tennessee ASID Chapter Conference in Nashville, then at the CET Designer User Conference in Grand Rapids, so I'm quite excited about seeing many of my current Customers and meeting new Designers.
Fall is a beautiful season in our part of the planet, and I hope it is equally glorious for you, too!
If you would like to contact me directly, you can do that also.
Blessings to one and all,
Michael
Split Views in Model Space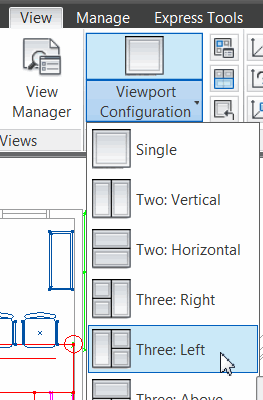 Back in TILEMODE <1> days (that would be pre-AutoCAD 200x for those of you just beginning with AutoCAD in this century), the splitting of Model space was commonplace for both 2D and 3D applications.
Power Tip: Yes, the TILEMODE variable is still around, so if you want to create a macro to flip over to a Layout, there's your answer!
Although I have written about this already—in December 2007 in a 3D application on a Layout, then a few years ago, in March 2009 (after I had just returned from training Chevron in Angola, West Africa)—I thought it was worth repeating.
In my recent training for the furniture manufacturer, inscape, I used the Viewport feature in Model space edit a 3D block. A recent addition to AutoCAD is the panel called Model Viewports.
How to Setup a Split Screen in Model Space
Open a drawing containing 3D objects and position your eyeball/view as necessary.

On the View tab, click the Viewport Configuration dropdown to display the available arrangements.

Click Three: Left.

Notice each view has its own Viewport Controls (covered in January 2012), so you can set a view for each viewport.

It's particularly helpful to see the edit occur in all views at the same time, too.
Power Tool
Crosshair Color on the Layout Tab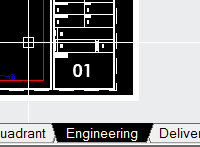 For purposes of clarity, I keep Model space black and the Layout tabs white. However, some folks like to have a black Layout tab, but that leaves the area beyond the 'paper' in a mousey gray and it's difficult to see the cursor in that area… unless you set the following.
Giving credit where due, the Tech Support people at 20-20 Technologies passed along the following solution to our customer in San Diego, then Juul forwarded this to me.
How to Change the Layout Tab Crosshair Color
Open Options, then click the System tab.

Click Performance Settings, then click Manual Tune to open the Manual Performance Tuning dialog box.

Empty the check box for Enable Hardware Acceleration.

Now click OK to close the open dialog boxes and you will then have crosshairs in paper space that change color based on the background where they currently fall.
There are other implications with your hardware acceleration, but I guess it depends on your priorities.
The Odd Spot
Layer State List… or Checkerboard?
This is, indeed, an odd situation that I cannot get my system to reproduce on demand, but you may have seen it yourself.
The Layer States dropdown list—Home tab

Layers panel—typically shows a vertical list of your layer states.
Sometimes you may see, rather than a list, what I can only call a checkerboard arrangement.
Solution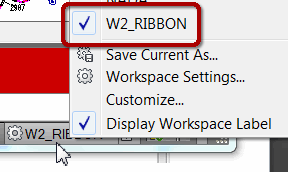 Restore your Workspace. On the Status bar, click Workspace Switching, then select the workspace that has the check beside it. That will restore the current workspace and restore the Layer State dropdown to a list.
The Basics
Word® Text Into Multiline Text
When you have construction notes in a Word® document, there's an easy trick to get it into Mtext.
How to Paste Text from Word® Into Mtext
Highlight, then Copy, the body of text in the Word document.

In AutoCAD, set the desired layer and text style to current.

Launch the Mtext command, then pick two points to define the location of the Mtext.

Right-click in the Editor, then click Paste.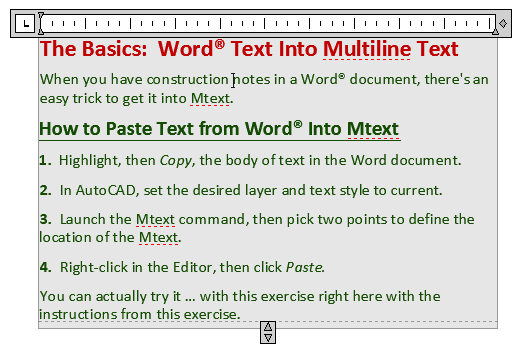 You can actually try it… with this exercise right here with the instructions from this exercise.
Left Field
October 12th—Traditional Columbus Day: Now that I see a map of Christopher Columbus' voyages, I understand the humor in the good Lord's decision to make that my birthday! That guy was all over the map!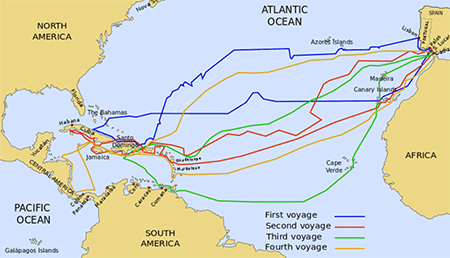 Of course that navigator of the high seas has been the lead character in countless controversies, but he still gets the credit for a greater European awareness of the American continents.

And, with a nod to his navigational experience, he not only got a statue in New York City, but Columbus Circle serves as the point from which navigation measurements are taken when establishing the distance to/from that fair city.
Donate to CADTutor
If you found this article useful, you might like to consider making a donation. All content on this site is provided free of charge and we hope to keep it that way. However, running a site like CADTutor does cost money and you can help to improve the service and to guarantee its future by donating a small amount. We guess that you probably wouldn't miss $5.00 but it would make all the difference to us.
Note from Michael: I want to thank all of my customers for continuing to retain my training services (some for over three decades!) and let you know your donations do not go to me personally, but to the ongoing maintenance of the CADTutor ship as a whole and to support the yeoman efforts of my friend and CADTutor captain, David Watson, to whom I am grateful for this monthly opportunity to share a few AutoCAD insights.