From: AutoCAD Productivity Articles #138
Originally published: February 2015
User Increment Angles for Polar (new in 2015)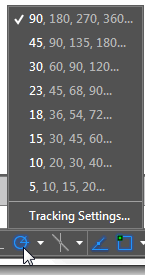 The Polar tracking feature [F10] comes with several preset increments. But what if you want your own increment, like, 12? This is now available for the first time in AutoCAD 2015 where you can specify an increment value, and AutoCAD will snap to all instances of that increment!
How to Add Additional Polar Angles
Click the drop-down arrow beside Polar Tracking, then click Tracking Settings.

Check the box for Additional Angles, then click New and enter a new angle. Click OK to close the Drafting Settings dialog box.

Click the dropdown arrow beside Polar Tracking, then click your new angle increments.
See all the articles published in February 2015
See this article in the February 2015 Corner
Donate to CADTutor
If you found this article useful, you might like to consider making a donation. All content on this site is provided free of charge and we hope to keep it that way. However, running a site like CADTutor does cost money and you can help to improve the service and to guarantee its future by donating a small amount. We guess that you probably wouldn't miss $5.00 but it would make all the difference to us.
Note from Michael: I want to thank all of my customers for continuing to retain my training services (some for over three decades!) and let you know your donations do not go to me personally, but to the ongoing maintenance of the CADTutor ship as a whole and to support the yeoman efforts of my friend and CADTutor captain, David Watson, to whom I am grateful for this monthly opportunity to share a few AutoCAD insights.