From: AutoCAD Productivity Articles #139
Originally published: April 2015
Update the Source File Block Edits on the Tool Palette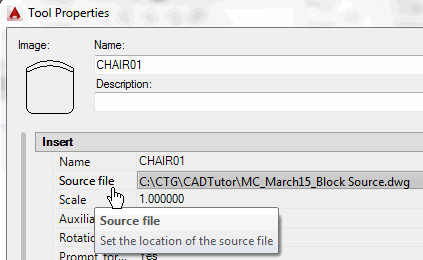 Throughout the archives of Michael's Corner you will find dozens of references to tool palettes, including the key component of blocks on a tool palette: the Source File. [Coverage of the Block Source file was originally presented in March 2006.]
Scenario: You add this armless chair to the source file and put several chairs in a drawing… then you update the chair in the source file with arms.
Problem: The chair on the palette now displays arms, but the chairs in the drawing have no arms, soooo…
How to Update Drawing Blocks from the Source File
After modifying the block in the Source File, right-click on the related block on the tool palette, then click Update tool image.

Now, in the drawing containing the blocks that were in the former armless state, go to the tool palette, right-click on the updated block image, then click Redefine… and all those chairs now have the updated condition with arms!
See all the articles published in April 2015
See this article in the April 2015 Corner
Donate to CADTutor
If you found this article useful, you might like to consider making a donation. All content on this site is provided free of charge and we hope to keep it that way. However, running a site like CADTutor does cost money and you can help to improve the service and to guarantee its future by donating a small amount. We guess that you probably wouldn't miss $5.00 but it would make all the difference to us.
Note from Michael: I want to thank all of my customers for continuing to retain my training services (some for over three decades!) and let you know your donations do not go to me personally, but to the ongoing maintenance of the CADTutor ship as a whole and to support the yeoman efforts of my friend and CADTutor captain, David Watson, to whom I am grateful for this monthly opportunity to share a few AutoCAD insights.