From: AutoCAD Productivity Articles #143
Originally published: December 2015
Original Dimension Value
Since the dimension text of an associative dimension is Mtext, double-click anywhere on an associative dimension and you can add additional information… or modify the value to what you want.

But what if you want to put the dimension back to the original value?
Insights:
If you reposition an extension line origin grip of a dimension and the value doesn't change, the original value was modified.
If you double-click a dimension and the edit box has a white background — not blue — the original value was modified.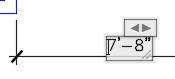 Solution:
Double-click the dimension, then put the less-than and greater-than characters in the dimension box, like this… <>
The original value will be restored.
See all the articles published in December 2015
See this article in the December 2015 Corner
Donate to CADTutor
If you found this article useful, you might like to consider making a donation. All content on this site is provided free of charge and we hope to keep it that way. However, running a site like CADTutor does cost money and you can help to improve the service and to guarantee its future by donating a small amount. We guess that you probably wouldn't miss $5.00 but it would make all the difference to us.
Note from Michael: I want to thank all of my customers for continuing to retain my training services (some for over three decades!) and let you know your donations do not go to me personally, but to the ongoing maintenance of the CADTutor ship as a whole and to support the yeoman efforts of my friend and CADTutor captain, David Watson, to whom I am grateful for this monthly opportunity to share a few AutoCAD insights.