From: AutoCAD Productivity Articles #145
Originally published: April 2016
"Best of" Basics: Irregular Viewport
When you need a viewport shape other than a rectangle, the first order of business is to be able to view the objects in Model Space at the desired scale. From there, you can create a polyline to essentially 'crop' the objects in Model space, then turn it into a viewport.

The best drawing for testing this is in the path…
C:\Program Files\Autodesk\AutoCAD 20xx\Sample\Database Connectivity
If you have AutoCAD 2014 or prior, the drawing name is db_samp.DWG
If you have AutoCAD 2015 or later, the drawing name is Floor Plan Sample.DWG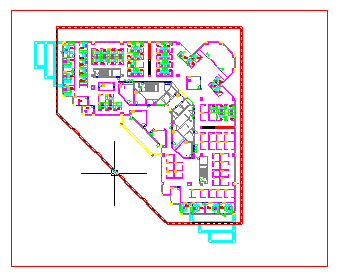 How to Create an Irregular Shaped Viewport
Right-click on a layout tab and make a new layout with a large viewport.

Double-click in the viewport, then set the desired scale from the scale list on the Status bar. You may want to start with 1/64″ = 1′-0″ so you can see all of it.

Return to Paper space and create any closed polyline, spline or circle to be the viewport.

Note: If you are creating a Polyline, you must use the Close option if it is to be converted into a viewport. If you did not use the Close option, use Pedit and select the polyline, then use the Close option.

In this illustration, I created a polyline around the perimeter of the floorplan. (Ideally, this would be on a dedicated layer on which you typically create your viewports).

On the Layout tab, click Clip.

When prompted to select the 'viewport to clip', select the rectangular viewport.

When prompted to select the 'clipping object', select the polyline (or whatever object you created in Step 3, above).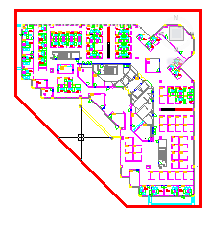 AutoCAD will convert the polyline into a viewport and erase the original rectangular viewport!
See all the articles published in April 2016
See this article in the April 2016 Corner
Donate to CADTutor
If you found this article useful, you might like to consider making a donation. All content on this site is provided free of charge and we hope to keep it that way. However, running a site like CADTutor does cost money and you can help to improve the service and to guarantee its future by donating a small amount. We guess that you probably wouldn't miss $5.00 but it would make all the difference to us.
Note from Michael: I want to thank all of my customers for continuing to retain my training services (some for over three decades!) and let you know your donations do not go to me personally, but to the ongoing maintenance of the CADTutor ship as a whole and to support the yeoman efforts of my friend and CADTutor captain, David Watson, to whom I am grateful for this monthly opportunity to share a few AutoCAD insights.